Phone:
1300 137 120
Security Alarm Systems - Alarm Repairs Service in Melbourne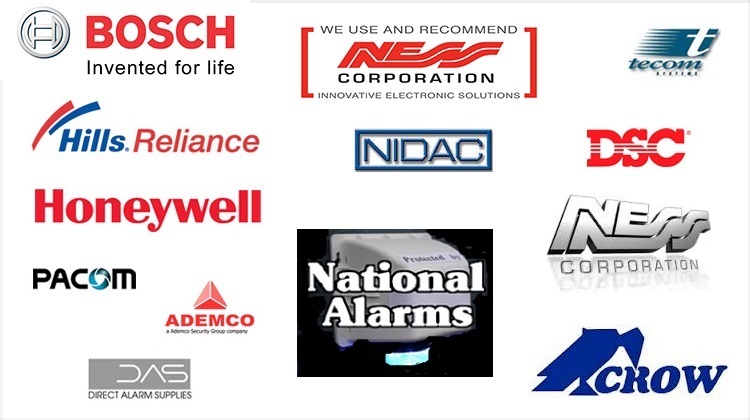 Experts in Alarm System Services & Repairs in Melbourne
Friendly licenced alarm system technicians with over 26 years experience in alarm system service repairs
Whatever your security needs our alarm technicians can tailor a solution for you. Just ring for a free quote. Our alarm technicians can help protect your property with security products that is reliable and very economical. National Alarms pride ourselves on the quality Workmanship and products so we take great care in the delivery to our customers. Our alarm technicians experience means that you can have peace of mind at home or when you are away from your premises.
Burglar Alarm Repairs and Upgrades
Our alarm technicians are able to repair and fix most types of faulty alarm systems. however some older type of Alarm Systems may need to be Upgraded. You may need to Upgrade to Pet Sensors if you obtain Pets. You may want to add extra Keypads or Key ring Remote Controls to your Alarm System. Often our alarm technician can repair Alarm Systems without the need to replace the existing alarm system. It could be the case that you only have a faulty sensor on a window or door which is causing false alarms. If this is the case, you may only be looking at a service and replacement of the faulty sensor. After 3 years the typical backup battery in a system will be very low. In this case we will replace this and give the system a full service. If you have an existing system that isn't working anymore and is now obsolete due to age, you may only need a new control panel and keypad. This is because the sensors and sirens/strobe light are still fine. This is the most cost effective way to get that old home alarm system up and running again. Our alarm technician will remove the old alarm control panel and keypad and replace it with a new one. It is important to keep your alarm system in good working order. You don`t want to be woken up at 2 in the morning with an alarm that you can`t stop. Regular servicing helps to maintain the performance of your alarm system. It is important to have your intruder alarm system serviced every three years. Regular servicing of an alarm system ensures the system's reliability and durability. We can service and fix your alarm system if you have a beeping alarm
To Purchase Quality Alarm Parts online from Alarm Shop go to AlarmShop.com.au
NATIONAL ALARMS - AT A GLANCE
ALARM SERVICE TO MOST MAJOR BRANDS
OVER 25 YEARS EXPERIENCE
HOME RESIDENTIAL ALARMS - OFFICE BUSINESS COMMERCIAL ALARMS
ALARM SERVICE REPAIRS
24 HR ALARM MONITORING
OVER 25 YEARS EXPERIENCE
OUR ALARMS ARE INSURANCE APPROVED
LICENSED APPROVED STAFF WITH OVER 27 YEARS EXPERIENCE
We service keypad light flashing - Battery light flashing - fault light flashing - Alarm keypad beeping - Alarm system code reset - Alarm battery replacements - Keypad replacements - Alarm Beeping - False alarms repaired - Smoke alarms beeping
Our Alarm Maintenance can connect remote controls to current old and existing alarms
We sell a good range of reconditioned obsolete keypads for many older type Bosch alarm systems. We do alarm system battery replacements, factory defaults and resets for many security systems.
Does your existing alarm system have keyring remote controls? We can connect them to any alarm system!
Bosch alarm system reset should be done by a qualified technician. If your alarm system is beeping, this is a signal that your alarm system needs to be serviced.
Is your alarm system false alarming?
There is nothing more annoying than an Alarm system with false alarms and a beeping keypad. Waking up in the early hours by the alarm sirens for no apparent reason is very troublesome.
Environmental and various system faults may cause a beeping keypad and trouble light to occur. Our experienced service technicians can analyze and repair the fault of your alarm system.
Our alarm service technicians can repair many different makes and models.
CK SYSTEMS
Ademco Honeywell Vista
Solution
DSC
Nidac CM8 Siera MCM IEI Crow EDM Bosch Services
National Alarms Maintenance Repair Service in Melbourne Include: Alarm beeping - lost burglar alarm user code - Emergency alarm repairs - Unable to stop alarm siren - Upgrades - Alarm service fault light on - False alarms - and replacing user codes - Alarm Battery Replacements - Adding and replacing remote controls - Alarm user manuals - Emergency alarm repairs Ness alarm systems is simple to operate info on crime statistics.vic.gov website Explore crime by Location in Victoria Don`t forget to have your smoke alarm system batteries replaced yearly Only working smoke alarms save lives
Business security
Whether your in a home, retail shop, a warehouse or a factory, at NATIONAL ALARMS in Melbourne we can provide you with security services for break-ins and business security monitoring. We have the best alarm service in Melbourne
Security products
We stock a range of high-quality security products including burglar alarms, as well as 24 HR MONITORING service. Our products are easy to use and after expert servicing, you can relax knowing that your possessions are safe and sound. We do preventative maintenance to many types of alarm systems
24-hour monitoring
NATIONAL ALARMS in MELBOURNE we will act promptly in any situation that affects your home or business so you can rest assured that your security is protected. YOU WILL HAVE PEACE OF MIND & FEEL VERY SECURE
Alarm Service Intercoms Alarm Repairs Preventing Breakin`s alarm repairs services google
NATIONAL ALARMS SERVICE MOST MAKES & MODELS
NESS
NESS D8 NESS R8 R16 WIRELESS NESS L8, NESS D16 NESS D24 NESS NESS Eco8 NESS 8X, NESS 16X NESS Pro L NESS Pro LD NESS Pro LX LXE NESS 5000
BOSCH
Bosch Ultima 880, Bosch 862, Bosch 844 Bosch 16 plus
SOLUTION
Solution 4, Solution 6, Solution 8, Solution 16, 16i, 16 plus
DAS
Direct Alarm Supplies Dl-100, DL-150, DL-200, DL-208, DL-250, DL-300, series 100L DAS 60L, DAS 200L 208L DAS 208M
NETWORX - NX SERIES
HILLS
Das Networx NX 4 Das Networx NX 8 Das Networx NX 12, Das Networx NX 16 Hills Reliance
DAS DL KEYPAD
Ademco
ADEMCO
Vista 10 Vista 10Ea Vista V12-20 Ademco Advantage Series
VISTA
Vista 10 Vista 10Ea Vista 12 Vista 20 Vista 50, Advantage
CK SYSTEMS
Sierra ck 236i ck 238, Rhino
HONEYWELL
Vista 10 10Ea Vista 12 Vista 20 300
EDM
- Digi 905, Digi 908 EDM 905, EDM 908 Solution 8, Solution 16
CROW
Crow 8 Crow 16 Powerwave, Runner
DSC
Series DSC 510, PC 550, PC 1565, PC 1616, PC 4020, Power 608 Power 832 DSC PC 1550, DSC PC 3000, DSC PC5010, DSC 9155 Wireless, Classic
NIDAC CM-8
CHUBB CHUBBGUARD Series FAI Security Guard IEI MCM PSA Products Pilkerton & Much More
Alarm Repairs - Home alarm system services in Melbourne
Armadale, Albert Park, Alphington, Altona, Altona Meadows, Ascot Vale, Ashwood, Ashburton, Aspendale, Aspendale Gardens, Avondale Heights, Chelsea, Chelsea Heights, Balwyn, Balwyn North, Balaclava, Bayside, Bayswater, Bayswater North, Beaumaris, Beaconsfield, Beaconsfield North, Belgrave, Belgrave Heights, Bentleigh, Bentleigh East, Berwick, Black rock, Blackburn, Blackburn South, Blackburn North, Bonbeach, Boronia, Box Hill, Box Hill North, Box Hill South, Braeside, Brighton, Brunswick, Brunswick East, Brunswick West, Bulleen, Bundoora, Burnley, Burnside, Burwood, Burwood East, Camberwell, Canterbury, Cardinia, Carlton, Cairnlea, Carnegie, Caroline Springs, Carrum, Carrum Downs, Caulfield, Caulfield East, Caulfield North, Caulfield South, Chadstone, Cheltenham, Clarinda, Clayton, Clayton South, Clyde, Clyde North, Coburg, Coburg North, Cranbourne, Cranbourne West, Cranbourne East, Cranbourne North, Cranbourne South, Croydon, Dandenong North, Dandenong South, Dandenong, Deer Park, Delahey, Dingley Village, Doncaster, Donvale, Doveton, Drouin, Endeavour Hills, Elsternwick, Elwood, Epping, Essendon, Ferntree Gully, Fawkner, Fawkner North, Fitzroy, Flemington, Footscray, Forest Hill, Frankston, Frankston North, Frankston South , Glen Waverley, Glen Iris, Hampton, Hampton East, Hampton Park, Hawthorn, Hawthorn East, Heatherton, Heathmont, Heidelberg, Highett, Hillside, Hoppers Crossing, Hughesdale, Huntingdale, Karingal, Kealba, Keilor, Keilor Downs, Keilor East, Keilor North, Kew, Kew East, Ivanhoe, Keysborough, Knoxfield, Langwarrin, Langwarrin South, Laverton, Leongatha, Lynbrook, Lyndhurst, Lysterfield, Lysterfield South, Maidstone, McKinnon, Malvern, Malvern East, Melbourne CBD, East Melbourne, North Melbourne, West Melbourne, Port Melbourne, Melbourne Airport, South Melbourne, Macleod, Mentone, Middle Park, Mill Park, Mitcham, Mont Albert, Mont Albert North, Montmorency, Mornington, Moorabbin, Moorabbin Airport, Mt Eliza, Montrose, Mooroolbark, Mount Waverley, Mulgrave, Murrumbeena, Narre Warren, Narre Warren South, Narre Warren North, Narre Warren East, Newport, Noble Park, Noble Park North, Northcote, Oakleigh, Oakleigh South, Oakleigh East, Officer, Officer South, Ormond, Pakenham, Pakenham South, Parkdale, Parkville, Patterson Lakes, Preston, Notting Hill, Nunawading, Patterson Lakes, Pearcedale, Point Cook, Prahran, Richmond, Collingwood, Fitzroy, Ringwood, Ringwood East, Ringwood North, Clifton Hill, Reservoir, Rippon Lea, Rosebud, Rowville, Sanctuary Lakes, Sandringham, Scoresby, Seaford, Seddon, Skye, Somerville, South Yarra, Springvale, Springvale South, South Yarra, St Albans, St Kilda, Sunshine, Surrey Hills, Sydenham, Tarneit, Taylors Hill, Taylors Lakes, Templestowe, Thornbury, Toorak, Traralgon, Truganina, Upper Ferntree Gully, Upwey, Vermont, Vermont South, Wantirna, Wantirna South, Warragul, Watsonia, Waverley, Wheelers Hill, Williamston, Yaraville - and much more.